Share your love for the outdoors with your four-legged friend! No more worries about your dog's safety with this reflective harness with a handle!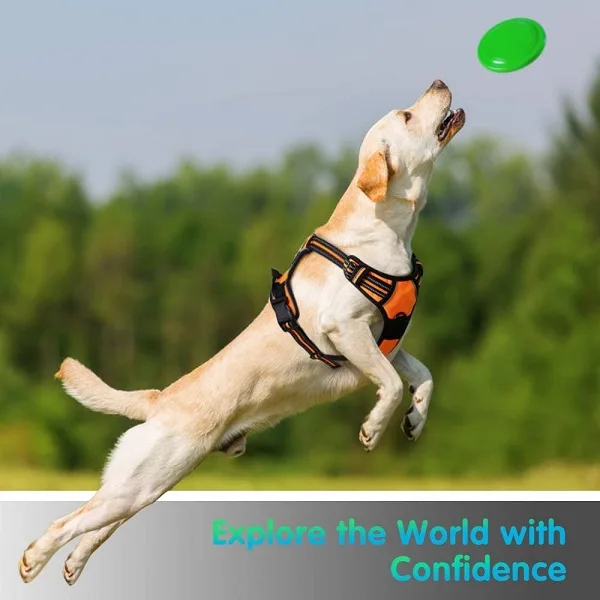 Create an eye-catching look for your dog and keep him safe and secure when out for a walk! This vest harness is crafted to distribute pressure evenly and safely around your dog's chest rather than the sensitive neck. It prevents damage to your pet's trachea and the risk of choking. The cushy and lightweight padding on the chest and belly will not rub your dog's sensitive skin, especially the armpit area. This harness provides extra comfort and protection for your dog yet allowing a full range of motion!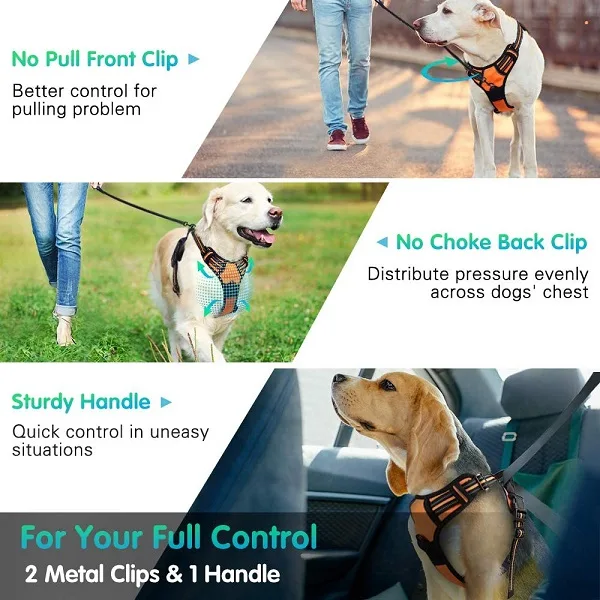 The built-in top handle allows for easy control if you need to lift or grab your pet quickly. It lets you assist or help guide your dog when having trouble with daily activities like going up the stairs or getting your dog into the car. This dog vest harness is perfect for an active lifestyle — running, hiking, training, swimming, camping, or going together for a long walk, enjoying outdoor freedom.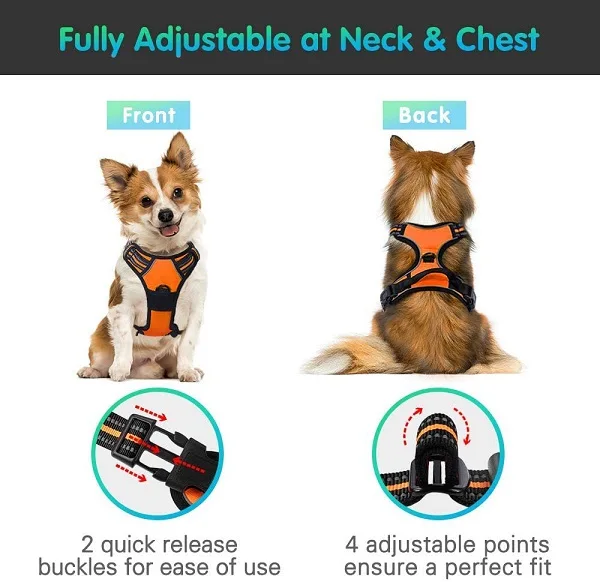 This pet harness is easy to wear, put on and take off as well. It features 2 quick-release buckles and fully adjustable straps at the chest and neck. Allows a custom and secure fit for your furry friend. Easily adjustable straps and snap buckles mean that you only have to adjust it once at the start. Next time you want to head out with your pup, pop it over your dog's head and snap the buckles together, and you are ready to go! Plus, this no-pull harness is designed with 2 leash rings for the ultimate outdoor safety. The front clip gives you more control over your dog's trajectory to let them learn to heel and deter your dog from pulling. The chest clip provides a comfortable control, suitable for casual walking.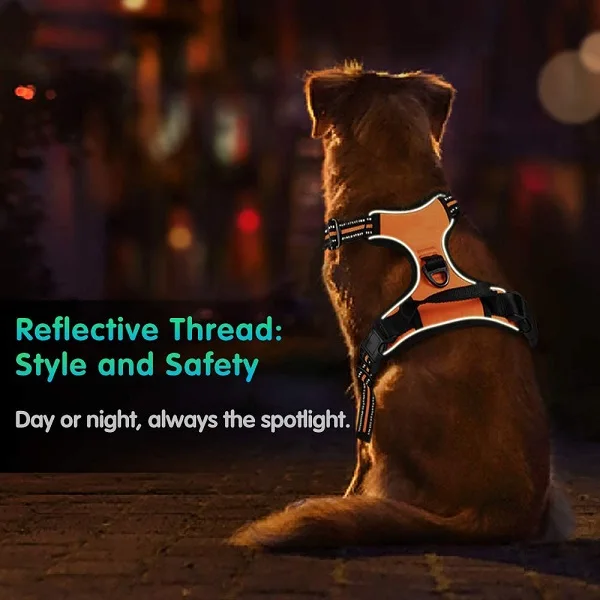 Finally, this harness with a sturdy handle also has reflective piping interwoven into its exterior. It helps you to make sure your dog stays highly visible, thus safe, while you're walking him at night. Just slip it over the head, connect the quick-release fasteners, and off you go.
KEY BENEFITS
✔️ NO PULL TRAINING — The position of the back leash attachment and soft padding around the neck help protect your dog's trachea from strong pulling. You can use the front leash attachment to teach your canine to heel and discourage from pulling.
✔️ FRONT & BACK LEASH ATTACHMENT — Comes with a front and back leash attachment. So you can decide how to stay connected with your pet.
✔️ STURDY HANDLE — Hеlрs уоu to mаnаgе dіffісult situations ѕuсh аѕ whеn уоu аrе bоthеrеd bу another dоg оr if уоu аrе guiding your dog into a car. It allows for quick control and is also the best partner for service or older dogs that need assistance.
✔️ REFLECTIVE — Perfect for nighttime strolls due to the reflective material that keeps your dog visible in low lighting.
✔️ EASY TO WEAR — A simple design and 2 quick snap buckles make this harness easy to put on and take off. Ideal for any outdoor adventure — daily walking, running, hiking, training, or camping.
SIZE CHART
Please make sure to measure your dog for accurate sizing before purchasing to ensure the perfect fit.