The ceramic bowl will reduce the number of spillages even from messy feeders!
This classic bowl is designed with a special stand that shortens the distance between your dog's food or water. It helps reduce strain on your dog's neck and joints while eating. The weight of the ceramic bowl will ultimately reduce the number of spillages for dogs who tend to make a mess.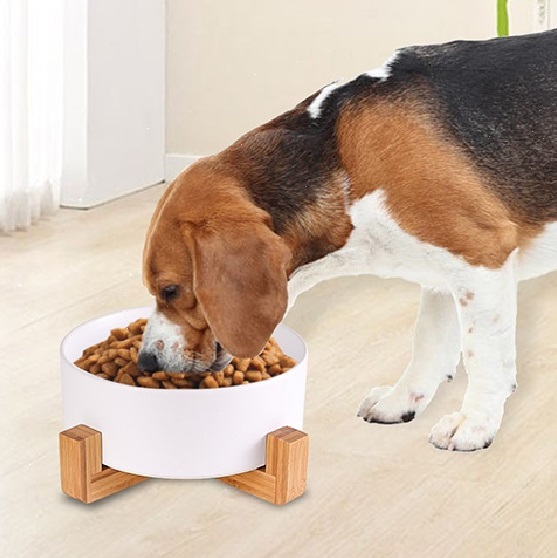 The bowl and the stand are made of eco-friendly, food-safe, durable ceramic and bamboo material, that is very easy to clean. Available in a variety of pleasant matte color options: white, green, gray, yellow, and pink. These bowls are so bright and clear in a color that you can quickly spot them even if your dog hides it.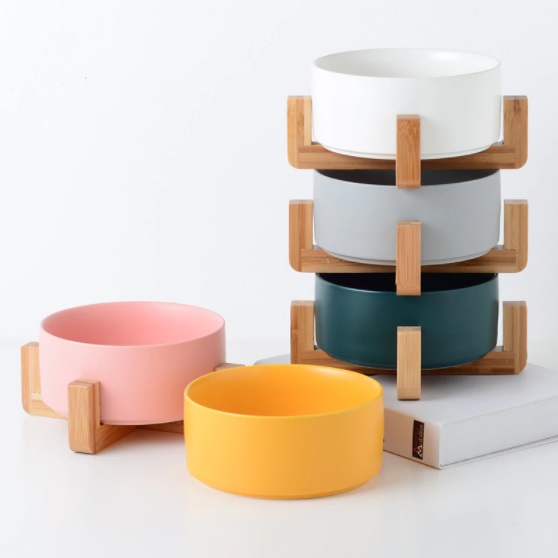 Besides, you can choose the size and the quantity of the bowls in the set. There are small and medium bowls that fit almost any size of your beloved pet, depending on their breed. 
KEY BENEFITS
✔️ PROMOTES NECK & POSTURE HEALTH — Thanks to the stand your pup's posture improves and the strain on his neck and joints is reduced. Such design helps promote healthier digestion by creating healthy eating and a natural position for your dog.
✔️ SAFE MATERIAL — The bowl and the stand are made of premium-quality material that is non-toxic and durable. It will definitely not fade and deform over the years. Moreover, the prime bamboo material absorbs water well.
✔️ COMFORTABLE USE — The wide edges of the round-shaped bowl make it ideal for dry food or even liquid high-temperature food or water because the ceramics withstands high temperatures. It is light and easily detachable from the stand, so it's easy to refill. Plus, if you choose a double bowl set, you can put pet food in one bowl and water in the other. Or you can even feed 2 pets together at once!
✔️ EASY CLEANING — With a smooth surface, the bowl is dishwasher safe or can be easily cleaned with soap and water to remove the remnants of food. The bamboo stand can be wiped with a damp cloth as needed.