No more ground eating! Make your pet's mealtime more comfortable with the raised bamboo bowl!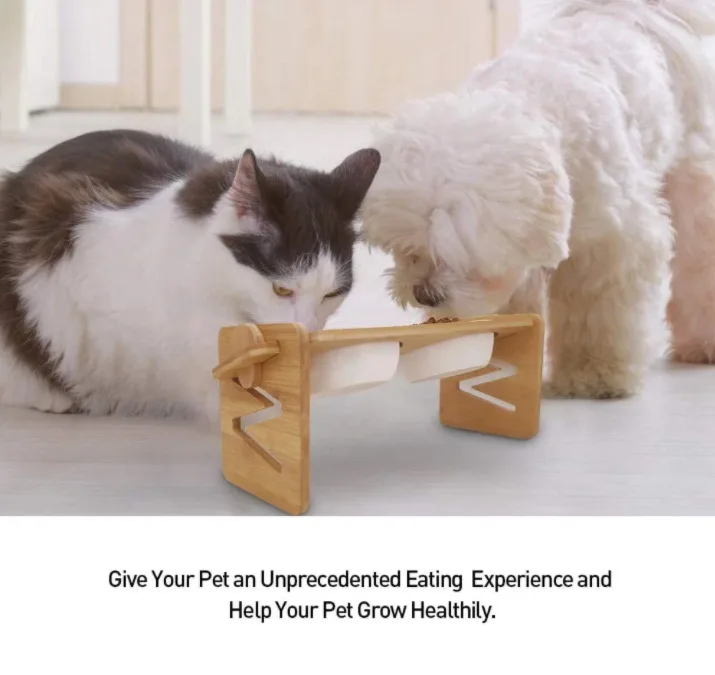 Now your four-legged friend can enjoy his mealtime in style and comfort. The modern wooden feeding rack is supported by a beautifully carved W-shaped symbol on both sides that gives a special touch to your home decor. Besides, the stand is made of high-quality bamboo material that is highly water-resistant, non-slip and durable. It will not warp or crack. Designed to be raised or lowered by 4 different levels so that your pet can eat at the height most comfortable for the size. It promotes better posture and digestion. Available in 2 options: with one ceramic bowl or two. Depending on that choice, the length of the stand feeder will be different. The size of the stand with one bowl: length – 10,23″, height and width – 6,29″. The size of the stand with 2 bowls: length – 15,74″, height and width – 6,29″.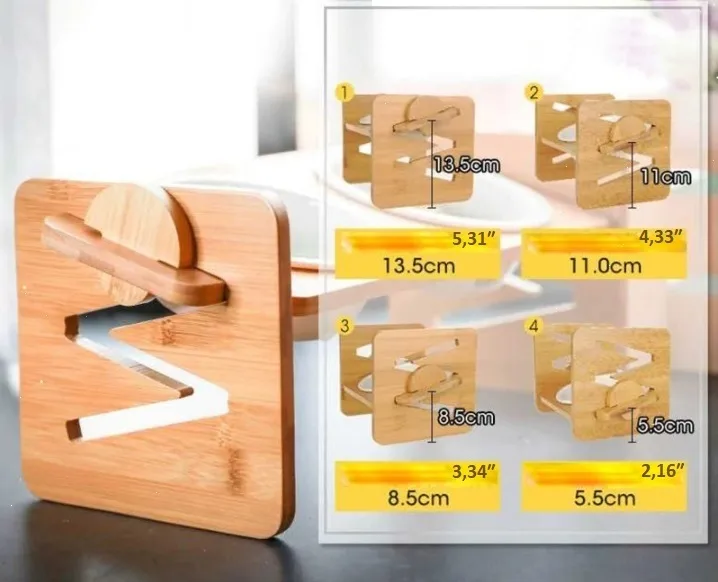 KEY BENEFITS
✔️ HEALTHY POSTURE & BETTER DIGESTION — The 15-degree tilt angle of the stand feeder meets the scientific perspective of small and medium dogs. Eating from the raised bowl aids digestion by straightening and lengthening the digestive tract to limit gas, bloating and indigestion. It also helps ease back and joint discomfort in ageing or injured pets. Now your pet will no longer have to strain unnaturally to eat from ground level.
✔️ SPECIAL W-SHAPED DESIGN — High-quality, thoughtfully designed set looks great in your house and makes mealtime more comfortable, healthy and enjoyable for your precious pet.
✔️ EASY SET UP — The stand is very easy to install without tools. There are only 2 wooden corks and 3 wooden boards to build a feeding rack.
✔️ HIGH-QUALITY CERAMIC BOWLS — Keep food temperature better than stainless steel bowls. You can use it for food and water. 
✔️ EASY CLEAN-UP —  Help keep your feeding area cleaner and more sanitary. Simply wipe down the stand's surface, and the removable dog bowls can be washed by hand or in the dishwasher!